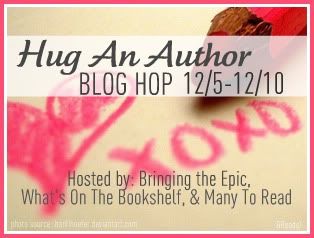 Welcome to Day 5 of the Hug An Author Blog Hop
Which author inspired you? Made you cry? Made you laugh til your sides split? Writes the closest to the way you speak?
There are so many writers that have inspired me over the years that I'm not sure I can pick just one. Recently, Jandy Nelson did all of these things in her book The Sky Is Everywhere. If you haven't read it yet, I suggest you bump it up on your TBR. Forewarning, you WILL need tissues.
If you are looking for a book that will make you laugh til your sides split, consider Dash & Lily's Book of Dares by Rachel Cohn & David Levithan. I literally almost wet myself reading this book. I haven't gotten around to reading any of the authors' other works, but I most certainly want to. And it's a great holiday read (shameless holiday plug there) that takes place in NYC over winter break. The antics in this one are sure to please!
Now, please help me hug and celebrate one of my new-found favorite authors, Tammara Webber. When I read Between the Lines I was not expecting to fall in love with the book. Even better bonus, Tammara is always so friendly and just awesome all around. Not only can she write her pants off - she can charm the fans! We do have such a blast on Twitter! Recently she and a few of my fellow online gal pals have been "dream casting" her characters and we have been rowdy and very vocal in swooning over some of our choices. I am so pleased Tammara agreed to interview for the hop!
Between the Lines, Where You Are,
and Good For You

(out on 16 December)
Tell us about yourself.

I fell in love with young adult books when I took a YA Lit course in college, thinking I might teach. I ultimately decided teaching wasn't for me, but my enjoyment of YA novels stuck. I've been a writer in one form or another all of my life, so I decided to try writing for the genre I'd come to love reading most. Eventually, I came up with Between the Lines.
Where can readers follow you on the web?
Facebook: http://www.facebook.com/TammaraWebberAuthor
Blog: http://tammarawebber.blogspot.com/
Twitter: http://twitter.com/tammarawebber (warning: I suck at Twitter)
Who is your favorite author(s)? Their genre? What makes them your favorite?

Jennifer Echols (YA contemporary romantic author) is my favorite. I adore her stories and writing style. Her books are a blend of humorous, hot, and serious stuff, and that appeals to me as a reader—and is also something I seek to emulate as a writer.
Which book makes you cry, laugh 'til your sides split?

I laugh often when reading anything by Echols, but Endless Summer was hysterical. Simone Elkeles' How to Ruin series was also especially funny (particularly the first one—I actually snorted twice while reading). Going Bovine (Libba Bray) made me bawl. Also teared up reading I Know It's Over (C.K. Kelly Martin) and Please Ignore Vera Dietz (A.S. King). Laughed and cried repeatedly in the same book: The Sky is Everywhere (Jandy Nelson).
Which author wrote the character that you would want to be your best friend?

Hmm. I think Seth from Wicked Lovely (Melissa Marr) would be pretty cool as a best friend. Or Matt from Flat-Out Love (Jessica Park). I suppose you can see where my head is on best friends… I'm married to mine. ;) I guess if I had to choose a literary female best friend… I'd want America from Beautiful Disaster (Jamie McGuire). She's loyal, protective, supportive and hilarious. (Just like my RL female BFF.)
Is there another author that when you see on tour/at conferences you feel fan-girly about? Who have you gotten star-struck over?

I haven't met many authors in person. I could imagine going a little fan-girly over John Green, though. He's so brilliant and talented and socially aware (and cute… which certainly doesn't hurt).
As an author, how does it feel to have your readers crushing on the fictional boys you have written?

I LOVE writing a guy who readers fall for. My goal when creating them is for the guys to be realistic, which means they will not be perfect. Of course, even imperfect guys will do some things perfectly. ;)
What advice would you give to an aspiring author in regards on how to reach their readers/fans?

A reader who enjoys what you've written will find you. Make yourself available! I felt really silly setting up a FB fan page when I indie-published my first book, but I did it. I set up a Twitter account at the same time. I already had the blog, which I rearranged to accommodate book information like descriptions, reviews, and the trailer for Between the Lines. Each of these has links to the others.
Interview with fellow book lover
Janette
Hmm, what can I tell you that will make me seem more exciting than I really am? I'm a
thirty-something Midwestern girl who has made her way to the South. I'm a married,
SAHM of three girls 13, 12, & almost 11. In my former life BC (before children), I was an
audiologist. [Sorry to disappoint, but no, that's not someone who fixes stereos. ;)] I'm
not a writer or a book blogger, so I guess I'd refer to myself as a book enthusiast. I read
a lot, whenever I can, and spend countless hours volunteering for community and
education non-profit organizations. (In other words, I work for free. :D)
Who is your favorite author and why? What genre do the generally write?
I knew this question would be part of this interview, but I dreaded it anyway. My first
thought was 'I have to pick 3 or less?' My next was that I really wish I could say it's
someone classic like Jane Austen or Tolstoy. If I'm being honest, my very favorite author is Stephen King. I love his writing style, and I'm completely drawn in by his ability to set a scene and develop complex characters. He writes primarily horror (what does that say about me?), and I will generally read ANYTHING he's written from novels to his
column in Entertainment Weekly. He's got a great sense of humor and wit that manages
to come through in all his work.
Do you have a blog? If so, what is the website. If not, where do you like to discuss your favorite books & gush about authors?
I don't have an active blog; I started one a LONG time ago, but I rarely update it. I guess
you could say I'm a wanna be blogger. I love to spend time on twitter or goodreads
discussing my favorite authors & books with others.
Where can we follow you? (Twitter, Facebook, etc.)
I'm on Twitter (@jderucki) and Facebook (Janette Derucki)
Which one of your favorite author's books is the one that made them your favorite?
If I had to choose one, I'd choose It. I read that book when I was a sophomore in high
school (about 15 years old), and it pretty much terrified me. I was so frightened that I
couldn't help but keep reading. I rushed through my homework every night just to get
back to it. I'm not even sure I could tell you what it was that captivated me...maybe the
clown? To this day when I read a book that features a clown, Pennywise is still who I
picture. He's the ultimate in creeptastic!
Who was your favorite author when you were a child? a teen? during your
adulthood? (has it ever changed?)
My favorite author changed quite a bit growing up. I loved Beverly Cleary's Ramona
series, then Gertrude Chandler Warner's Box Car Children before I eventually found my
all-time favorite author from childhood, Judy Blume. I read the Fudge books and
everything else she'd written (well, that my mom would let me read anyway). As a
preteen I discovered the Sweet Valley High books by Francine Pascal and plowed my
way through those. I've always read a wide variety of books in many genres.
Eventually I read Stephen King and, as I mentioned before, he became my all-time
favorite. Since then I've found tons of authors I really love; it would be impossible to
Is there an author you've met or attended their book signing? If not, who would yougive your right arm to see?
I love to attend book signings; living near Atlanta we're lucky to get many authors
passing through. I attended my first signing with my friend Sue during grad school. We
attended a Nora Roberts event to get signed books for our moms, and I've been going
ever since. For the past several years I've been able to attend the Decatur Book
Festival in Decatur, GA. It's held during Labor Day weekend and features tons of
authors for all ages, all genres, including local & up-and-coming names. I've attended
many readings & panels of my favorite authors (new & old); this year my favorite panel
featured Beth Revis, Myra McEntire & Rachel Hawkins. To name a few, I have been
fortunate to meet Diana Gabaldon, Richelle Mead, Kate DiCamillo, Lauren Myracle,
Judy Schachner, & Jackson Pearce.