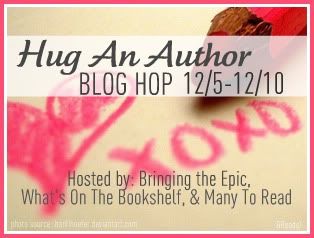 Welcome to Day 2 of the Hug An Author Blog Hop
Today I have the privilege of presenting special guests author Diana Peterfreund & my friend and fellow blogger Tamara B.
Which author wrote the character that you would want to be your best friend?
When I was a little girl I was absolutely in love with Anne Shirley from LM Montgomery's "Anne" series. In fact, I was so much in love with her character that I wanted MY middle name to be spelled with an "e" as well. Alas, my mom told me no. So I'm stuck with plain Ann. But I digress. I do believe if Anne were real and she were my best friend, we would have gotten into many more scrapes (that's saying a lot since Anne was always getting into messes) and we would have been kindred spirits.

As an adult, I read Diana Peterfreund's "Secret Society Girl" series and immediately fell in love with the main character, Amy Haskel. Amy is the kind of girl I would want in a best friend. In a way, I almost view her as a modern day Anne Shirley. She loves literature and writing, has some very crazy relationships, & gets into tons of trouble and scrapes. I'm seeing a pattern here... Amy is quick-thinking, intelligent, fiercely loyal, and persistent. She also has a nose for mystery. I also have to say I'm a little envious of Amy's love interests but I don't want to spoil the series for you. You'll just have to read about all of Anne & Amy's adventures yourselves.
Ms. Peterfreund's interview was perfect to present to you today because we share one of the same characters that we would want to be our best friends!
Interview with

Diana Peterfreund
RAMPANT and ASCENDANT: Killer Unicorns (Harper Teen)
SECRET SOCIETY GIRL Series (Bantam Dell)
Oh, let's see. I prefer hot weather to cold, owing to growing up in Florida. I also love thunderstorms. I was named after a Bond chick. Ice cream is best when there's chunks of chocolate, candy, and nuts in it. Thai food is my favorite of all Asian cuisines. I live in Washington, DC, with my family. I am a total sucker for dogs, especially my Toller, Rio. My favorite TV shows are: Buffy the Vampire Slayer, Veronica Mars, The West Wing, Avatar: The Last Airbender, Arrested Development, How I Met Your Mother, and The Wire. I used to be a food critic. I'm the author of the four books in the Secret Society Girl series, the killer unicorn novels Rampant and Ascendant, the upcoming post-apocalyptic

For Darkness Shows the Stars

,

and a bunch of short stories.
Where can readers follow you on the web?
Who is your favorite author(s)? Their genre? What makes them your favorite?
F

or a long time, I've loved L.M Montgomery and read her "Anne" series over and over every year. I think she's a master at crafting distinctive character voices and finding the magical in the everyday. I'm also a lifelong fan of CS Lewis's Narnia series, which is the fantasy world I'd probably go live in if given the chance. Other favorites: Alexandre Dumas, Jane Austen, Edgar Allan Poe. Currently publishing authors: Tamora Pierce for awesome heroines, Laini Taylor for gorgeous wordsmithing, and Scott Westerfeld for pure, unadulterated fabulous storylove.
What inspired you to become a writer? Was it another author, self-driven, or something/someone else entirely?
I honestly can't remember a time I didn't want to be a writer. In first grade, when we were given black and white composition notebooks nad told to use our vocabulary words in a sentence, I used them in a story. But until I graduated from college, I never even met a professional writer, I never thought it was something I could do (it didn't help that the established narrative at Yale was "if you're not going for a Nobel in Literature, don't write books"). I made myself a bet: said, if you write a book -- a whole book -- you can spend $100 and join Romance Writers of America. Well, I respond well to bets, apparently. I finished that book, joined RWA, and spent the next few years soaking up as much info as I could.
Which author wrote the character that you would want to be your best friend?
Currently, I want to be BFFs with Lola from Stephanie Perkins's LOLA AND THE BOY NEXT DOOR. But usually, Anne Shirley Blythe from LM Montgomery's "Anne" series.
Who is the author that wrote your first fictional crush? Which book/series and what made you crush on them?
Edmund Pevensie from CS Lewis's "Narnia" series. He went through some rough times in The Lion, The Witch, and The Wardrobe, but he emerged from the other side a better man and proceeded to be one of the strongest and most admirable characters in the series. In fact, I wrote a whole essay about my love for Edmund, called "King Edmund the Cute" in the non-fiction anthology
Through the Wardrobe
.
***UPDATE!*** Diana has informed me they have made the King Edmund essay FREE this week. You can get here at http://www.smartpopbooks.com/1052
What advice would you give to an aspiring author in regards on how to reach their readers/fans?
I feel like "reaching fans" is a little cart-before-the-horse for an aspiring author. The best way for any author to reach readers is to write a book someone will become a fan of. Make a book worthy of fandom, and the readers will find you.
Interview with
Tamara B.
I am Tamara, I'm from a small European country called Croatia, I'm fifteen, adore to read, inspiring author and that, I think, sums me up about nicely.
Who is your favorite author and why?
My favorite author is Cassandra Clare, but notice it is a very hard pick. Why? Because there's just something about her novels and her writing that captivates you right from the start and doesn't let you go... ever.
Do you have a blog? If not, where do you like to discuss your favorite books & gush about authors?
Why yes, I do have a blog.
http://tamarasbookramblings.blogspot.com/
But I also gush about books on twitter.
Which author wrote the character that you would want to be your best friend?
Lennie from The Sky Is Everywhere, because she is similar but different from me. I think we'd make a good team.
Is there an author who brought you to reading or got you started reading after having stopped for a time?
Umm, I'd say Stephenie Meyer, because Twilight made me a booklover I am today... if it wasn't for Twilight, I'd never open a book that wasn't mandatory to read.
Which author created a world so vivid you were actually lost after the book/series was completed? (i.e. who gave you a book hangover from hell?)
Again, Cassandra Clare and the Shadowhunter world. I mean, it is just a-mazing! It has got all of the mysterious creatures incoorporated and Jace is there *swoons*... So what is there not to like? :)
Thank you again to my lovely guests today. Please share with me



Which author wrote the character that you would
want to be your best friend?
Remember to drop back in tomorrow for Day 3!