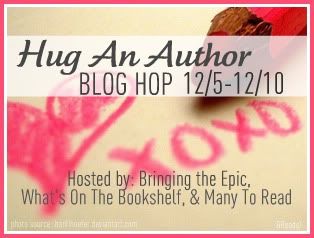 Welcome to Day 1 of the Hug An Author Blog Hop
During the preparation for this week, I was able to interview some of my favorite authors and book-crazy friends! Each day this week I will be answering a question from the list our hosts have chosen. Also, I will be sharing the interviews with you. Of course, I would LOVE to hear what all of my followers have to say about their favorite authors so don't forget to comment.
To end my portion of the blog hop I will be doing a giveaway. The prizes are yet to be determined so check back during the week for details and to find out how to enter.
Without further delay, let's get this celebration started!
Is there an author that brought you to reading?
Anne McCaffrey
1 April 1926 – 21 November 2011
I would like to dedicate this first day of the Hug An Author celebration to the award winning author, Anne McCaffrey (Goodreads).

Last week I was devastated by the news of her passing. The world has lost a truly creative, brilliant soul but I am warmed with the thought that she will live on with her legacy of the written word. I am truly thankful that her son, Todd McCaffrey, has taken up his pen and has worked with his mother in the recent years in continuing her Pern series.
Ms. McCaffrey was a master of the sci-fi/fantasy world and is probably best known for her beloved Pern series. Among the Pern novels, she wrote a small trilogy called The Harper Hall Series: Dragonsong, Dragonsinger, & Dragondrums.
The book that brought me to reading was Dragonsong. The main character Menolly spoke to me very deeply and reached out to me. Here was a misunderstood girl that found solace in music. Menolly is a vivacious and determined young girl, and highly skilled in her art & shows a profound love for music. Dragonsinger is my favorite of all her books. It is THE book I always return to as it were a security blanket. I guess you could say it's my security book.

After reading the Harper Hall Trilogy, I went on to read the other Pern novels. I remember staying up until sometimes 1 or 2 in the morning, on school nights, when I should have been sleeping. I wouldn't realize the time because I would get so caught up in the wonderful story Ms. McCaffrey crafted.
My husband and I also bonded over our love of these novels so that is something else I will always treasure.
Thank you for sharing your tremendous gift with the world, Ms. McCaffrey. You will be truly missed.
Interview with avid reader
Let me preface Malia's interview by saying that she is the first person I met when I started high school. What is even funnier is that we lived in the same neighborhood for most of our lives and hadn't met until visitation day at CAPA. When I want something new to read or want to discuss books, Malia is the go to gal! Without further ado, I present one of my oldest and dearest friends and her book love:
Hello there! My name is Malia and I am currently having a flashback of starting the school year in elementary school/ submitting a profile for a dating website. Wow, there is an odd juxtaposition, eh?
I am a hopeful writer slash painter slash one of those artistic people. I have a love affair with words, especially those of the printed sort. I enjoy painting glass and things with the things that make me smile. I have a small addiction to video games and love my XBOX 360. I enjoy long walks on the beach….oh wait…flashback again…
Who is your favorite author and why? What genre do the generally write?
Ok, asking me who my three favorite authors are, well is a really, really, freakin' really hard question. I have way too many, so I will go with the three that jump into my brain first and go from there. Well, there is really a fourth but he doesn't need any explanation as to why, so I'll just name drop. You are totally on the edge of your seat, waiting in suspense right?
1.) William Shakespeare (he has always been my favorite writer. when you get your first Shakespeare anthology in 5th grade, yeah has to be on the list….
2.) Kasey Michaels I stumbled upon her books one day when scanning for something quick to check out from the library. It looked cute, quick and like a decent read. Within five minutes of reading it, however, I was laughing so hard I was crying. This brought on some interesting stares from my husband…
She writes romance novels, some current day, some historical, but all written with a sarcastic, intelligent whit. Romance may not be everyone's cup of tea. I call them my cupcake books, fluffy, pretty and fully of amazing tastes and flavors, with no real benefit to health. But with Kasey Michaels' books, she does make you think by working in literature, pop culture and music references, Les' Miserables, for instance.
There isn't a true style to her writing, some of it is in the Faulkner style (we'll get to him in a minute), while some is very linear and clear. Sometimes she writes from first person and other times third person. She also has no problem inserting herself into the story as a narrator or psychic when needed. She can do this all, in the same novel, flawlessly. The sarcastic comments made by the lead characters never miss in rhythm. The characters are true and full, very well rounded and believable. They may get into crazy predicaments or involve the supernatural, but there is never a time where when you, as the reader, ever question whether or not this would really happen. From the wealthy members of the Main Line to a girl coming out for her first season in London, Kasey Michaels intertwines you in the story and makes you believe.
At the end of each of her stories, I always want to know, what happened to them? Where did they go? What life did they live? A truly great story always leaves you wanting just a little bit more…

3.) William Faulkner
Here is a little bio for you "William Cuthbert Faulkner (born Falkner, September 25, 1897 – July 6, 1962) was an American writer from

Oxford

,

Mississippi

. Faulkner worked in a variety of media; he wrote

novels

,

short stories

, a

play

,

poetry

,

essays

and

screenplays

during his career. He is primarily known and acclaimed for his novels and short stories"
Ok, now that we got that out of the way, William Faulkner is my all time second favorite author. (I guess I have a weakness for Williams). His book, "The Sound and The Fury" is my favorite book. It is written in true Faulkner style. (I call it that at least, a book where each character tells different parts of the story separated by chapters. It can either be in chronological order or not.)
His overall immersion into each character is poetic and almost cinematic. In each of his books, he completely becomes each character he writes for. Sometimes, it is 5 year old; other times a slave, or a person experiencing a mental breakdown and finally a mentally handicapped adult male. Every time, he completes the transformation, slipping effortlessly into character. The only unifying thread is the different viewpoint of the same story and the total absence of the author.
His roundabout way of storytelling is what I love the most. When one event happens, everyone who saw it sees something different. It affects them all differently also. The way Faulkner tells relates his stories you see that. He paints and unbelievably brilliant picture of life, that I never want to stop looking at…

4.) Sarah Addison Allen
She is the newest author I have been reading. Again, when I was stumbling around looking for something to read, her newest book popped up as a suggestion. After reading the sample piece on the website, I had to read more.
Her books are short maybe 250 pages with some under 200. I should mention here I read fast, like freakishly fast. Usually a 200 page book will maybe take me 4 hours uninterrupted, a day at most. But her books took me so much longer, because I would read a part and go back and read it again 3 or 4 times.
She writes I guess what would be called southern gothic but with romance mixed in. There is an element of the supernatural to her stories, sometimes a hint, other times a main plot point. But she pulls you in, makes you believe everything she says.
My favorite part about her writing is the description. She describes in tastes, smells, feelings like no other writer I have ever read before. For instance, she describes the smell of opportunity as fresh lemons and the smell of regret as sour lemon meringue pie. Her descriptions mix feelings and tease the senses. Does regret really have a smell? Does a first kiss have a particular taste? What does a secret feel like against your skin?
You get lost in the world of her stories and are happy to be held prisoner. With the tastes, smells, and feelings she depicts, who wouldn't want to stay forever…
Do you have a blog? If so, what is the website. If not, where do you like to discuss your favorite books & gush about authors?
I have a sadly much neglected blog. I usually discuss my favorite authors with Marissa and other random people on Facebook.
Where can we follow you? (Twitter, Facebook, etc.)
Right now only my painting has a Facebook fanpage and webpage. The Facebook fanpage is under Bruce & Harley and the webpage is bruceandharley.webs.com. Maybe one day my writing will have one too.
Which one of your favorite author's books is the one that made them your favorite?
1.) "Much Ado About Nothing" William Shakespeare
2.) "Everything's Coming Up Rosie" & "The Butler Did It" Kasey Michaels
3.) "The Sound and The Fury" William Faulkner
4.) "The Sugar Queen" & "The Peach Keeper" Sarah Addison Allen...sorry, I can be a little indecisive

Which author wrote the character that you would want to be your best friend?
Yikes! Ok, this is way too tough. Beatrice definitely from "Much Ado About Nothing". Doug Llewellyn and Rosie Kilgannon from "Everything's Coming up Rosie" I just love true sarcastic whit. Josey Cirrini from "The Sugar Queen". I didn't write the "Why I would want these particular characters to be my friend" because this is already over a thousand words and I have another question to answer lol

What advice would you give to an aspiring author on how to reach their readers in the future? What qualities do you look for or have you found you like best about your favorite author?
I am pretty interested in the answer to that first question, myself. I have never contacted another author, well strike that. I talk to other aspiring authors, free lance writers etc, but never to a mainstream, published author.
I am a sucker for description and great characters. Those things can pull you through the murkiest of plots and the most boring of chapters. Weak characterization just kills it for me, "who cares" just echoes in my head as I read it.
I like being put in the setting of my book, right in the heart of it. I want the author to paint a complete and total picture of everything and plop me right in the middle. These are also key points I try to implement into my writing also.
Thanks for stopping by and a huge thank you to Malia for allowing me to pick her brain and for taking some time away from her family & crafting projects! Join me tomorrow for more author gushing and a special appearance by author Diana Peterfeund, author of the Ivy League Society series.
There is still time to sign up for the Hop! Check out how to participate HERE!
Is there an author that brought you to reading? I'd love to hear about it!