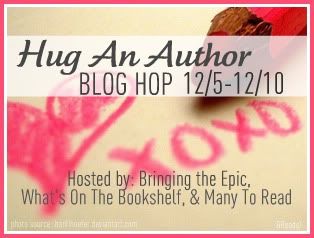 Welcome to Day 3 of the Hug An Author Blog Hop
Is there an author you've met or attended their book signing? If not, who would you give your right arm to see?
Unfortunately I have never encountered the chance to see any of my favorite authors at a signing. When I lived in bustling Philadelphia, I never knew that opportunity existed and then I moved to a smaller city in Louisiana that did not get to see much in that area of the arts (as far as I know). You could probably say that I have lived under a rock for 30 years.
However, now that I KNOW these opportunities exists I would give my right arm to see Jeri Smith-Ready.
Which - I find kind of funny b/c I don't know who would want my right arm in the state that it's in right now....But Jeri is always so fun, generous, and all round awesome when she interacts with fans on Twitter and Google+ hangouts I would be totally willing to give my good left arm to see her at a signing.

I know Team Kilt is having a Kilt-Con in May. I really hope that I can be there but traveling from Japan at that time might prove a bit difficult.
The moment I put Shade down I immediately bought Shift. When I had finished reading, I wanted to start back form the beginning and read them both over again. I also needed tissues. When both of these things happen, I know I am in love with a series. I cannot wait until Shine is released in May.
While co-hosting this fabulous event, I had the opportunity to talk to so many of my bookish friends. I am so lucky I have them to gush with over books, characters & authors!
Today I have another interview for you to check out - my good friend, Twitter sweetheart and blogger...
Thamy D.
Tell us about yourself.
I'm a Brazilian who lives in England with my husband and little daughter, I love colourful things like butterflies and sexy warrior faeries! Or angels, werevolves and even vampires to be fairly honest. Anyway in my real life, the one when I am not pretending I am a Shadowhunter, I am pretty normal, graduated in Business, always worked for banks and love eating cakes. I talk a lot, people ask me sometimes to have a drink of water and rest my tongue a bit, but the truth is that I love talking to people, it's in my blood, you know I am Brazilian! Ha!
Who is your favorite author and why? What genre do the generally write?
Cassandra Clare, she is my idol. I also love Jeri Smith Ready and Julie Kagawa. These awesome authors write YA novels. I utterly recommend their books. Sensational.
Do you have a blog? If so, what is the website? If not, where do you like to discuss your favorite books & gush about authors?
Where can we follow you? (Twitter, Facebook, etc.)
I'm on Twitter under ThamyDuff and on Goodreads, I love talking about books, amazing fictional characters and movies.
Is there an author you've met or attended their book signing? If not, who would you give your right arm to see?
I've been to a Cassandra Clare book signing in London and I'll tell you this, it was amazing. I live in Newcastle so I had to get a train to London with my rucksack carrying every single book I owned written by her. It was tricky because I was pregnant and the sickness and tiredness were not on my side, but it was worth it. She was friendly, welcoming and just as I imagined she would be, amazing!
Who was your favorite author as a child? as a teen? Now as an adult?
I am from Brazil so my authors are really not internationally known, but I loved reading The Lord of the Rings by J. R. R. Tolkien when I was 15. As an adult? Clare is my top author, but I need to mention To Kill a Mockingbird by Harper Lee because her novel truly moved me, I was sad for a few days after I finished reading that book because I loved it so much.
Which author created a world so vivid you were actually lost after the book/series was completed? (i.e. who gave you a book hangover from hell?)
The Summer Trilogy
by Jenny Han is a series that owns a piece of my heart, but Clockwork Angel by Cassandra Clare turned me into a psycho for months! I love so much her characters and the story that I can hardly explain why I loved this book so much. I am Team Jem by the way!
Thank you, Thamy! I hope you are currently stuck with your nose in Clockwork Prince!
Is there an author you've met or attended their book signing? If not, who would you give your right arm to see?
I'd love to hear about it!