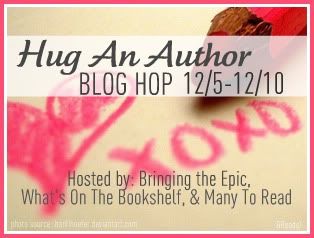 Welcome to Day 4 of the Hug An Author Blog Hop
Who was your favorite author when you were a child? A teen? During my 20s?Currently?
This is a pretty tough question for me because I am an extremely indecisive person. I can never just pick 1. I don't have a single favorite of ANYTHING. This probably sounds odd to you, but it's true. Here I will attempt to narrow it down and share a few of my favorites. Can I do it ladies and gentlemen?! Here I go...
Anne McCaffrey - Ms. McCaffrey brought me to the world of reading and just looking at my copies of her books, you can tell they are well-loved (i.e. falling apart because I've read them so many times). (Child/teen years)
Sherwood Smith - Ms. Smith has a way with words that completely draws me in. I love her kick-butt leading ladies and her mysterious leading men. Just thinking about her worlds and her characters makes me want to go crack open ANY book of her's and snuggle up on the couch. I loved Crown Duel and was so ecstatic to discover she had written more. Much anticipation over some of the next bunch of releases. (Teen/adult years)
Jeri Smith-Ready - Funny enough I came to Shade & Shift late in the game thanks to the YA Crush Tourney held by YA Sisterhood. I just had to read all about Zachary Moore. At first, after reading the synopsis I was a little hesitant. I shouldn't have been because it is seriously my favorite series that I've read this year. I laughed, cried, and ready to find out what happens next. I will sincerely be waiting on pins & needles until May when we finally see Shine! Not to mention, I love the WVMP series (adult). What's NOT to love about vampire DJs?? (Current)
Other authors of note whose books I am always on the edge of my seat for: Richelle Mead (Vampire Academy & Bloodlines), Cassandra Clare (The Infernal Devices & The Mortal Instruments) , & J.K. Rowling (Harry Potter). These authors write books that I pull all-nighters reading.
Ann
Today I have the privilege of presenting special guest, fellow blogger Ann from Annabell's Book Nook!
My name is Ann. I am 24 and live right in the middle of Minnesota. For the most part, I enjoy it here. I don't like the winter because of how cold it gets, but I love the winter because of all the reading I get to do! I don't spend a lot of time outside when it is cold, so I read lots of books and blog about them too!
Who is your favorite author and why? What genre do they generally write?
My absolute favorite author is Richelle Mead. I read her Vampire Academy series when I had just begun reading for fun again (those 4 years in college really made reading for fun not possible!). I hadn't really been interested in vampires at all, and didn't understand what all the fuss was about. But when I read the first book in that series, Vampire Academy, a whole new world was opened to me. I loved The Chronicles of Narnia and Harry Potter when I was in elementary and high school, but I thought as an adult I was supposed to stick with adult books! I am so glad that I read Vampire Academy and found such a great author!
Do you have a blog? If so, what is the website. If not, where do you like to discuss your favorite books & gush about authors?
Where can we follow you? (Twitter, Facebook, etc.)
Is there an author whose books you'll read regardless of the genre they write simple because you know you will love it?
Jennifer Lynn Barnes. I actually haven't read much of her work, just the Raised by Wolves series, but her writing is amazing! So I would definitely read anything she writes, regardless of the genre.
Who was your favorite author when you were a child? a teen? as an adult?
I think in my child/teen years my favorite authors were C.S. Lewis and J.K. Rowling. And as an adult, my favorite author is Jennifer Lynn Barnes. I could come up with a whole list, because I have several favorites, but she is the ultimate favorite! :)
Is there an author that got you started reading or maybe one that brought you back to reading after having fallen away from it?
After college, I picked up Vision in White by Nora Roberts. I had never read anything by Nora Roberts before, but the cover was gorgeous and the synopsis was sweet. I finished all of the books that were already released, and actually ended up picking up the rest the day they were released. I rarely buy books, and if I do, I wait until I can find a used copy or it goes on sale.