Something spectacular is brewing and coming soon to some blogs near you and you can participate! It's been cooking for a month or so now and I am so excited to be hosting this event along with a couple of my blogging friends. Now presenting: *trumpet fanfare*
HUG AN AUTHOR Blog Hop 
December 5th - December 10th
Myself, Lynn from Bringing the Epic and Jen from What's On the Bookshelf are hosting a blog hop to celebrate authors! 
One day while chatting on Twitter we realized that many of us coo, swoon and drool over books and their characters (steamy, sexy boys and men, yes?) but rarely get to extol the greatness of the authors behind our favorites. Do you find yourself saying: "This book was great!" "I loved these characters!" "I want [insert girl name here] to be my best friend." Behind all of that was an author that created that world for us. The time has come to honor those authors. 
Do you have an author that you will read no matter the genre they write for us? Is there an author you just can't live without attending at least one of their signings or readings? Which author's books do you count the seconds, minutes, hours, & days until their next book is released? Join the blog hop and share your love & admiration with us in December.
Here's how to participate:
1. Sign up with the linky below. (Won't be active for a few days so make sure you keep checking back).
2. Pick your favorite author (or authors).
3. Pick a question (or questions) from the below list and answer them during the Hug An Author Blog Hop.
If you could ask your favorite author anything what would it be?

Which one of your favorite author's books is the one that made them your favorite?

What advice would you give to an aspiring author for their future fans on how to reach a reader?

Who was your favorite author when you were a child? A teen? During your 20s? Now as an adult?

If you could pick 3 authors to have a meal with, which author would you choose for
Breakfast
Lunch
Dinner
And why?


Which author inspired you? Made you cry? Made you laugh til your sides split? Writes the closest to the way you speak?
4. If you want to give away a book or swag from your favorite author feel free, but it's not required.
5. Grab the button and spread the word.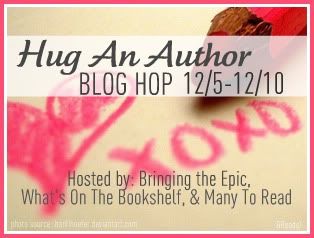 6. Come back here and see our answers to the questions. Visit your fellow participants as well.
Jen, Lynn and I will be hosting blogger/author interviews throughout the week as well. If you are interested in participating please email us and we'll send you the interview questions.

You can reach me at mavso29 at hotmail dot com. Use the subject line "Blogger/Reader interview"
We can't wait to share with you and hear all about your favorite author sightings, stories, and fan girl and boy moments! 
Don't forget to sign-up :)